willoughby
handstands & cartwheels workshop
our fave signature f.y. workshop brought to willoughby these holidays! WED 22ND APRIL. 1-4:30PM. SUITABLE 6-12YRS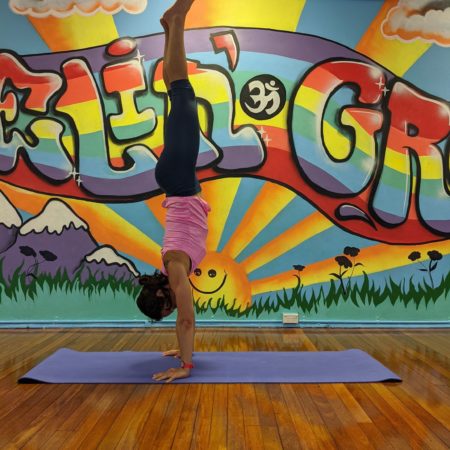 Amanda Fuzes is the Director of Flying Yogis. One thing she loves more than enjoying the freedom of being upside down and flipping around is sharing this joy with children. She has helped children overcome fear and anxiety through her methodical, step by step teaching approach. 
Bright Stokes- if you want your child to be inspired to be their best selves, encourage them to attend classes with Brighty. She is 15yrs old and represents Australia in trampolining. Her form in gymnastics is perfect!! Additionally- her sisters are Senior teachers at Flying Yogis so we are so proud to have her in our "Guru" family. 
So while Amanda teaches form; technique and awareness from a yoga perspective, Brighty brings in the gymnastics drills and the experience of achieving so much so young!
When:
Wednesday 22nd April 1:30- 4pm pm daily … Doors open at 1:25 and we request pickup be punctual. Our teachers have other programs and classes they need to get to after the workshop. 
Where:
GPOwer Dance Studio: 272/274 Willoughby Rd, Naremburn NSW 2065
Why 6-12yrs?
This program is known as a "specialist program". These are workshops to help children get better at specific skills that they may be practicing already. There are less games; it's less "child minding"- and we don't supply that teacher who'll "look after the little ones.
Our full day programs in Annandale and Rose Bay are suitable for 5-12yrs… activities are divided by age group and the focus is way more on fun while picking up loads of fun new skills. 
 "
What to Wear in General:
Gymnastics/ yoga style gear . They will be barefoot inside for many activities- so no closed toe tights. 
What to Bring to the Program:
We will stop for a snack at 2:15pm for about 25 mins. Please pack a hearty and nutritious snack and full bottle of water. We discourage sugary processed food as it is not conducive to concentration and comfortable movement. We recommend: fruit; yoghurt; cheese/ crackers; sandwich. 
We have a nut free policy- just as at schools. 
And the Small Print!! (not so small- so please read)… 
Behaviour
Please let us know if your child has any behavioural issues. If there are tools to make your child feel at home and welcome, please share them. The less surprises we have- the better able we are to manage a child who finds new activities stressful or confronting. We will also ensure we have the correct staff on board with experience to manage children of varying points of the behaviour spectrum
We have zero tolerance on bullying or aggressive behaviour at any of our programmes. We let the children know this at the start of the day. We don't give warnings, we will ring a parent to pick the child up. This is for the sense of safety and security of the child being bullied.
VIDEOS AT AFTERCARE:
We will have some quiet activities set up for children- such as drawing; colouring; puzzles; lego.. they can play on our equipment if our teacher is able to monitor them, however- after 4pm we usually pop a fun animation or kids movie on for the children to watch. This allows our teachers to tidy up after our big days and prepare for the next day. If you are not happy with this, please contact us to discuss all options. 
INJURIES DURING CAMP TIME:
We take every precaution possible to ensure child safety: high teacher- student ratios; first aid knowledge and administrations; setting out safety guidelines each morning. Accidents, however, do happen. And more often with children. While we will look after your child if they hurt themselves; and administer first aid; we are not liable for an injury that may occur to your child by accident during our programs. There will be an injury report to sign; and there are cctv cameras to capture footage of incidents and our first aid responsibilities. 
*NOW FOR THE RIOT ACT- ABOUT PICKING UP CHILDREN LATE!!
If you are more than 10 minutes late to pick up your child after 3pm, you will be charged for aftercare ($25). And please please respect our staff and do not be after 5:30pm if your child is booked into after care. You will be required to pay them $15 per half hour you are late- in cash directly. They are exhausted… they want to go home; they may have after work plans;- or at the very least- they need to prepare everything for the next day's activities. We trust you understand.