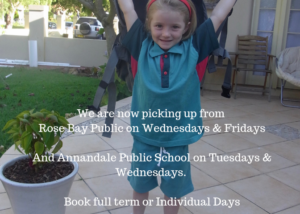 Term 3 Bookings are now open for everyone.
For Rose Bay Public Families:
Our wonderful new "Guru", Savanna can do pick ups from Rose Bay Public School On Wednesdays (2 spots left) , Thursdays (1 spot left?) and Fridays (4 spots left) for her new class starting term 3. This is for:
Booking for the term is $125 (or $12.50 per class x remaining weeks); or you book individual days – $15
Stay tuned, follow us on Facebook & Instagram and don't miss Enrollment Dates, Special Events & Special Promotions!
TO ENROLL PLEASE CLICK ON A CLASS IN THE TIMETABLE BELOW
We hear your feedback that our timetable doesn't fit on screens! We are working on it. In the meantime- please scroll down and around by clicking to the right of the timetable to find the scrollbar. On your phone? turn phone to landscape view and you'll see all 7 days- then scroll down to classes that don't fit on the screen.
Please read our Terms and Conditions before booking your child into our program. By booking into our program you agree to all Terms and Conditions as outlined on our website should there be any exceptions please provide written notice.