Welcome to Prana Space. Our Adult Classes in Rose Bay
Why Should Kids Have All the Fun? 
Prana Space opened as an adult Yoga Studio in 2002. The irony of how Flying Yogis started in Rose Bay was that so many adults students from Prana Space asked if we could offer classes for their kids. The kids took on a life of it's own, now the adults are asking- "Why aren't there more classes for us?"
Despite being very small, Prana Space has stood the test of time as it's core value has always been- "For Sydney's most unique Yoga Teachers to offer Profoundly Inspiring classes to the local community and lovers of Yoga."
Our Rose Bay Adult timetable ranges from traditional hatha; dynamic vinyasa; Yin & of course Flying Yogis Adults. 
How to Book
Check the timetable below for the class/ classes that suit
Click on "purchase a pass" then either buy a Intro pass if you are new to the studio ; or one of our other options if you have been before. Our passes are flexible. 
Please email us to send through student discounts. Student discounts are available to full time students under the age of 35 years. 
Then go back and book yourself into your desired class. 
We provide all mats and equipment.  
What to Bring:
We have all mats and equipment – so only bring your own mat if you prefer. 
CASUAL OPEN CLASS
This pass is suitable for our Hatha Open; Hatha Gentle; Progressive Asana; Yin & our regular timetable (not courses) 00 GB Space

Student rate: $22 (for full time students under 35 yrs, purchase at studio & present your Student ID)
10 - VISIT PASS
This pass is suitable for students who would like to drop in occasionally to classes yet cant fully commit to regular attendance.

Student rate: $195 (for full time students under 35 yrs, purchase at studio & present your Student ID)
25 - VISIT PASS
This pass is suitable for those who believe they can make it to at least 2 classes per week.*Please not we cant put these passes on hold*

Student rate: $400 (for full time students under 35 yrs, purchase at studio & present your Student ID)
MONTHLY UNLIMITED
This has to be the most flexible monthly pass around! no contracts/ auto-deducts.. You buy your monthly pass as you need. Please note we can't put this pass on hold at all- so be sure you can attend 4 weeks of yoga.

Read our terms & conditions & sign the form at our studio to purchase this pass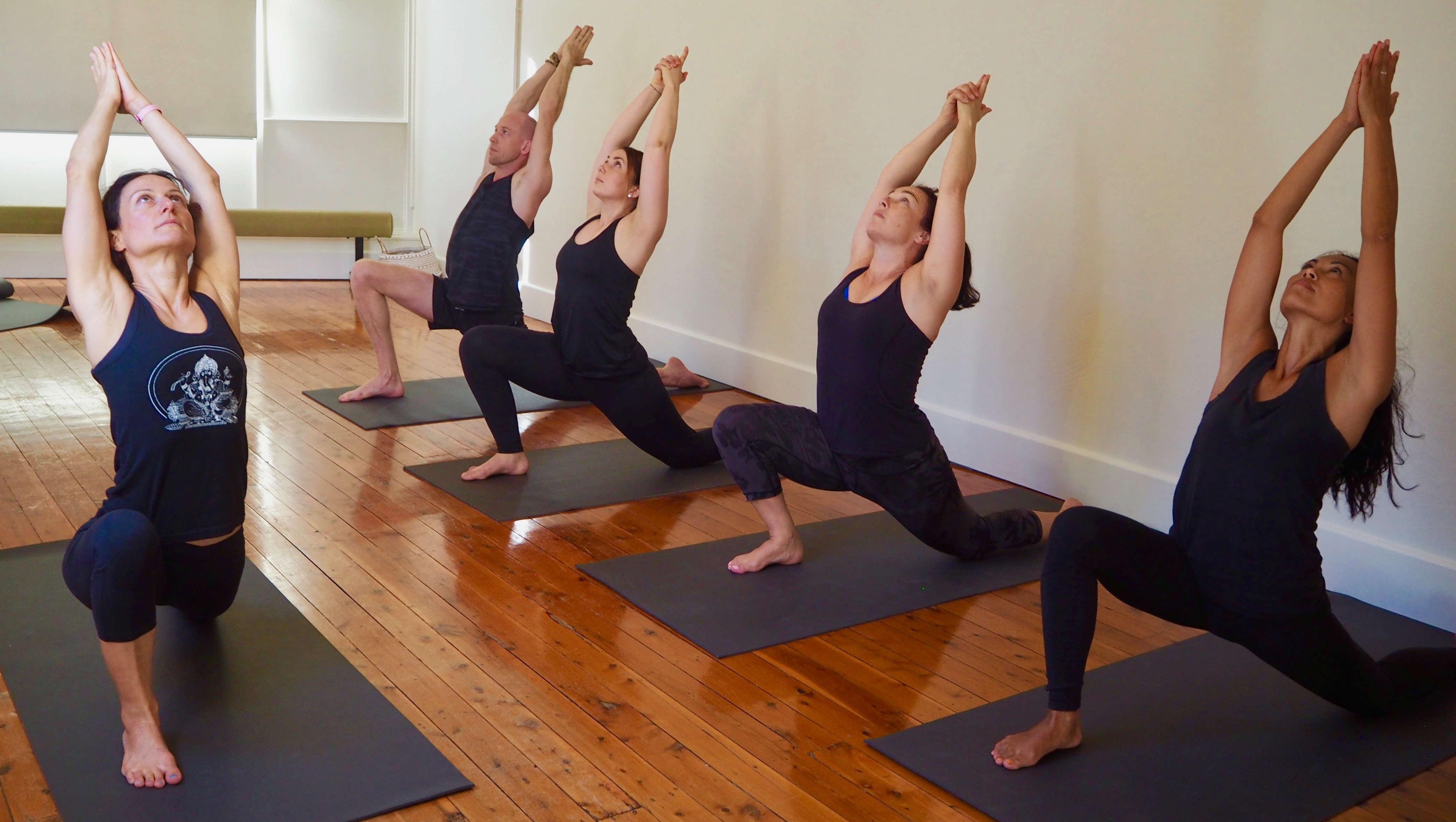 Hatha Open
Hatha Yoga is the foundation of all the Indian based yoga styles you can find. Whether its Mysore (Ashtanga); Iyengar; Power; Vinyasa; Bikram - they are all based on traditional Hatha Tennets. Our Hatha Yoga Classes are flowing & aim to give your whole body a workout, stretch & restore. This class is suitable for students with either a little bit of experience, all the way to very experienced practitioners, our classes are small so we specialise in being able to cater for all levels, give challenges & more therapeutic options for those who need.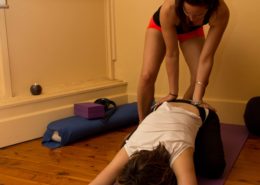 Hatha Gentle
If you come to yoga to chill out, relax & totally unwind from life's pressure, this class is for you. It's also suitable for complete beginners, & students requiring therapeutic & restorative stretches. Don't forget, like in all our classes, your teacher will tailor each posture or sequence to you & your specific conditions... so just let your teacher know of any pains or strains you may have.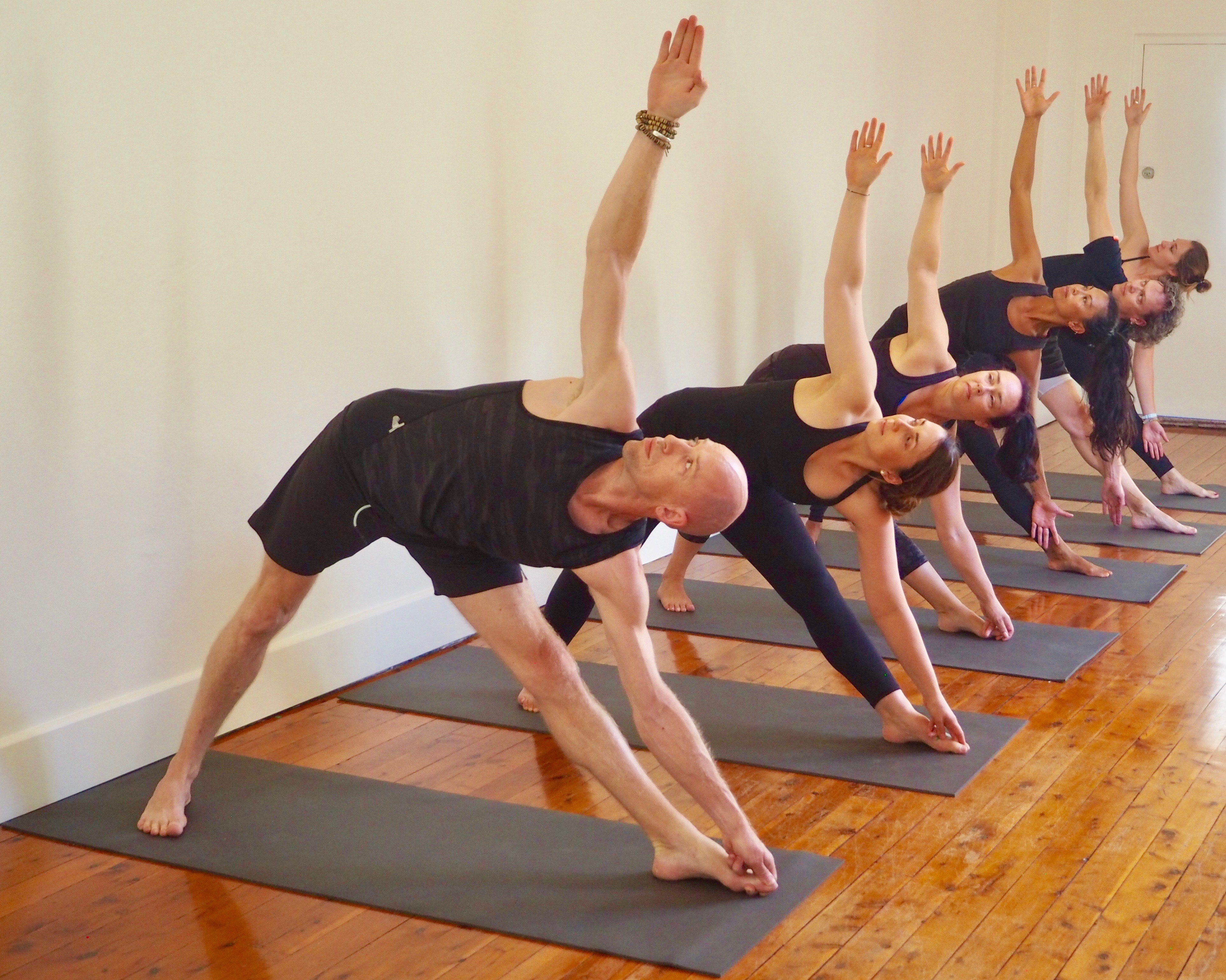 Vinyasa Flow
Most of our classes sequence poses together in flowing combinations. However, in Vinyasa flow class - you are sure to move, stretch, strengthen & get every part of your body circulating & moving. Open to all levels but a bit of yoga experience is beneficial. Our classes are small & our teachers are skilled at offering challenges to experienced practitioners, as well as easier options for newbies.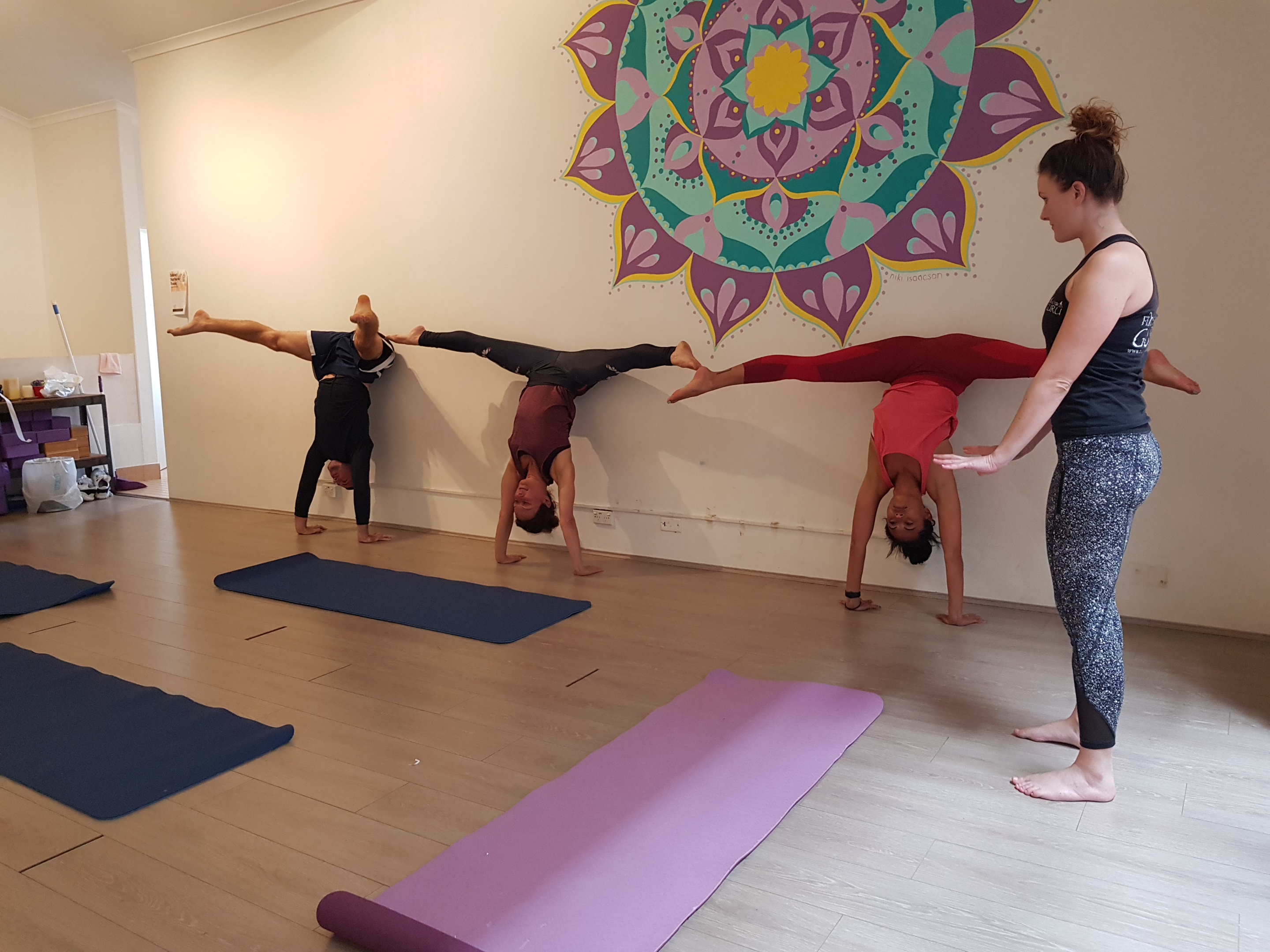 Progressive Practice
This is a progressive asana practice with Amanda Fuzes- senior yoga teacher and Yoga Teacher trainer. Amanda shares the techniques and methods she uses to approach challenging yoga asanas. If you like a little acrobatics, partner acroyoga, calisthnics - then this class is for you. Yoga or gymnastics experience required... Please email about this class before you try.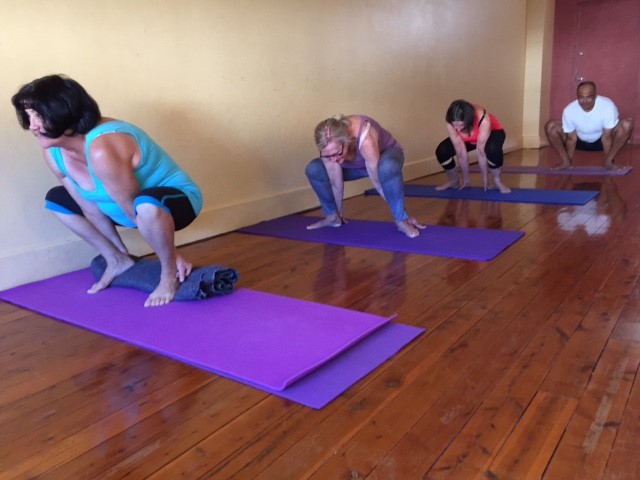 Yoga Therapy
For students who require Therapy; restoration and to heal from pain & injury. Janetta Glenn, as well as having over 25 years experience of teaching under her belt, is also a registered Yoga Therapist with Yoga Australia.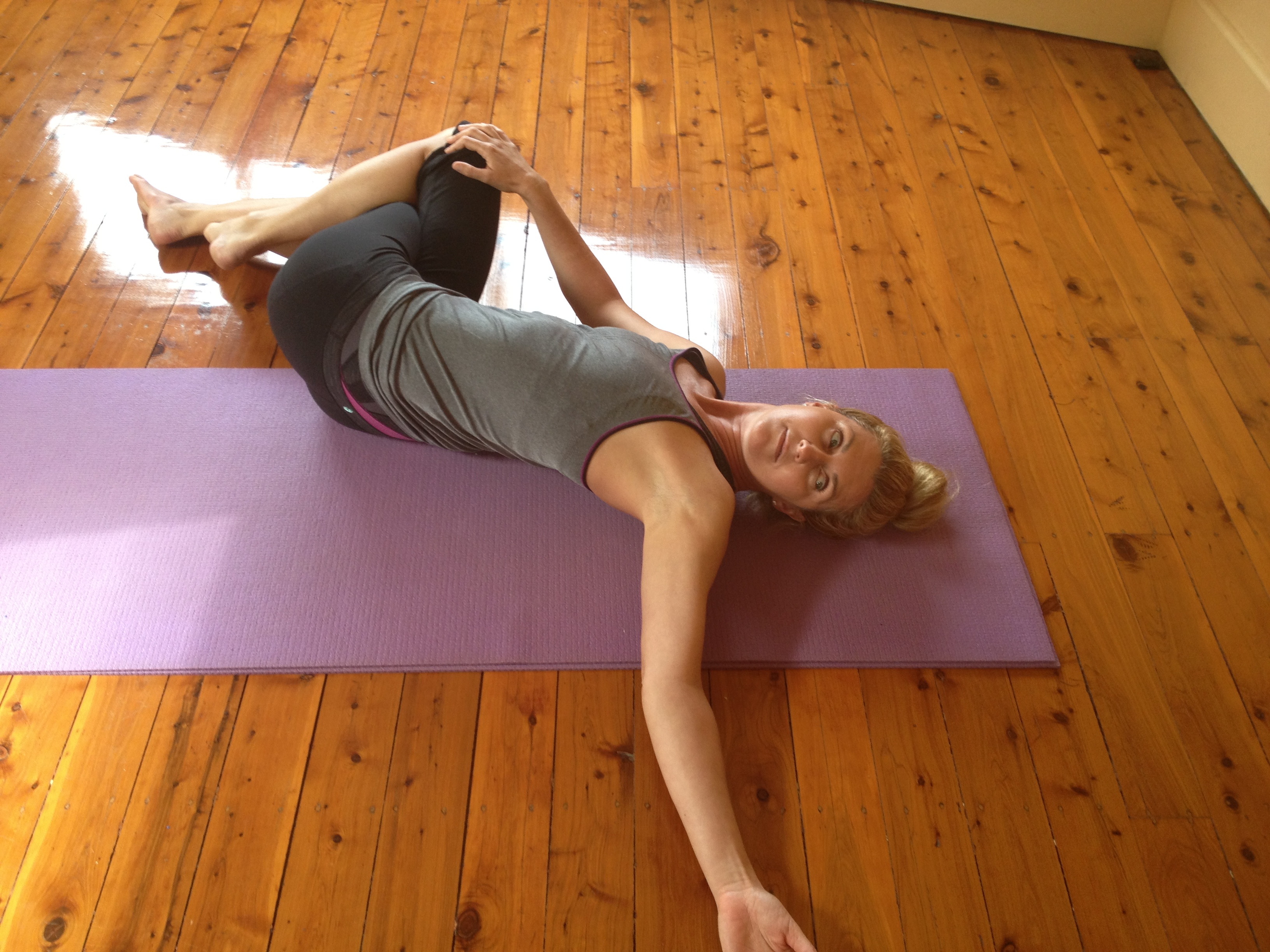 Yin
Take some of the most gentle stretches you know; hold them for 5+ minutes- then you know the true meaning of overcoming strain; injury; blockages; emotiona; baggage & pain- until you eventually achieve a bliss state. Yin yoga might look like you're doing nothing at all- however, it is one of the deepest forms of relaxation you can find, as it deals with the "issues stored in our tissues" … and leaves us, ideally, without a worry in the world.
103C Parramatta Rd, Annandale NSW 2038
1/696 New South Head Road, Rose Bay NSW 2029