What Class is Perfect for Your Child
How awesome would it be to start yoga from 3 yrs old?
In our Bendybods classes, we work on coordination; agility; flexibility; fun yoga poses; new gymnastic challenges and concentration games. Stories about mindfulness and other yoga philosophies are introduced in fun ways. We also sneak in little lessons associated with literacy and numeracy. They'll not only be able to spell and count, they'll be able to do it with their bodies!
It's important to note that this class is without carers or parents. Children progress better this way. If your child isn't ready to do classes without carer present, please consider waiting until they are comfortable to be left on their own.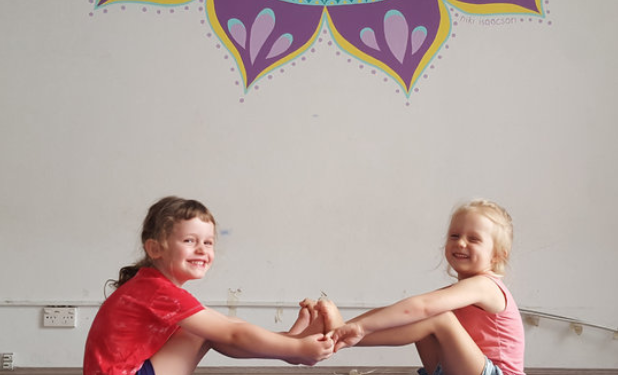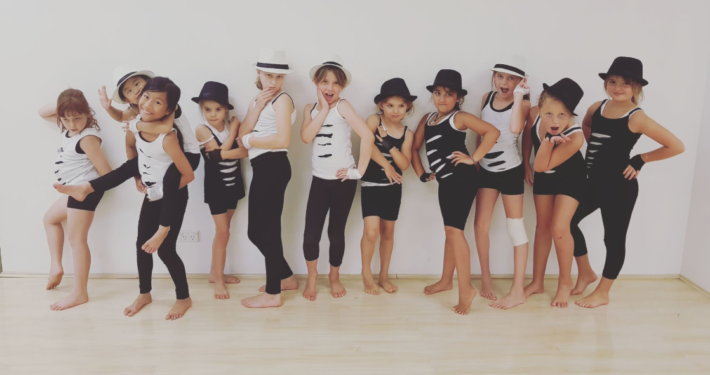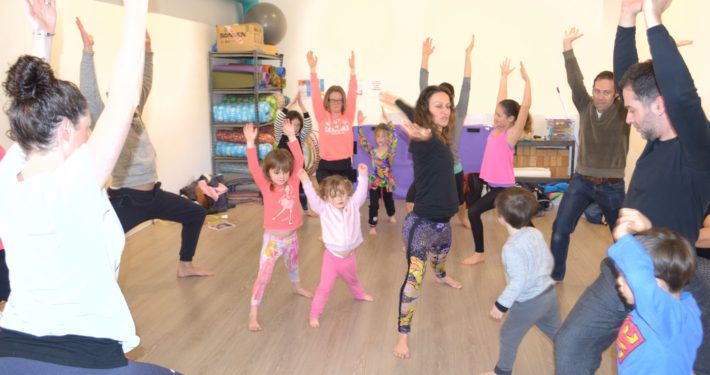 "Too Cute for School" Hip Hop for pre-schoolers & Carer
TCFS – "Too Cute for School" – this is the most adorable Hop Hop class in Sydney!!
Either pick this course alone and enjoy the term of dancing; routines; costume making and fun… or if you chose to go back to back with the bendybods class on that's just before – you pay only half price for this one! We also provide a healthy fruit snack for them between the classes.
And brand new to Annandale- bring Mum along on tuesdays at 10:50am for a "shake your sillies out" opportunity… we have a Mums and Preschooler Hip Hop class which is totally Epic!!!
Our programmes mix age- appropriate concentration games, sequences and activities. We work specifically on concentration as the medium to improve self awareness, self confidence and focus. We also introduce the fun world of partner work and acrobatics.
"I am constantly seeing my little girl take tools she learned on the mat at Bendybods off the mat. It's improving all areas of her life. Her self-esteem, concentration, focus and discipline has improved beyond comparison". M Scriven- parent.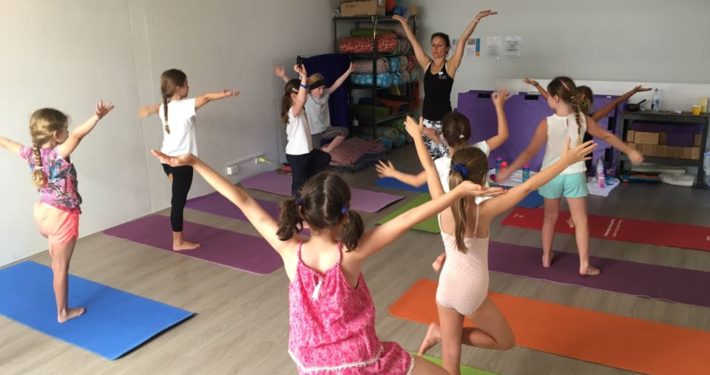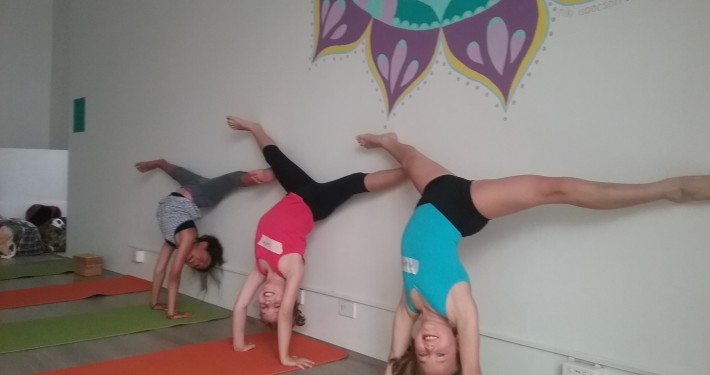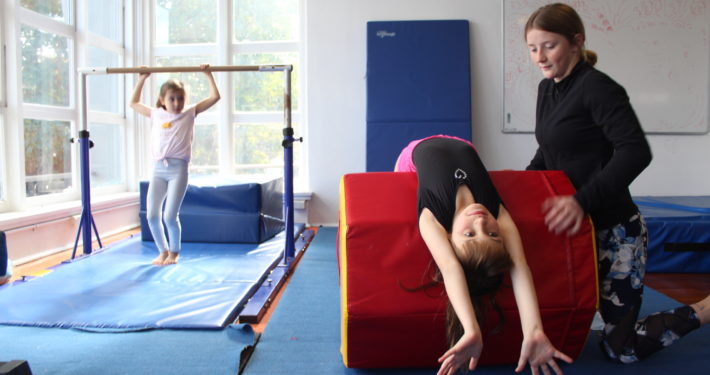 Acro/ Yoga/ Tumble 6 – 8yrs
This course is for children in yrs k-2. It commences with about 20 mins of yoga to increase focus/ concentration/ coordination and body awareness.. then 35 mins of tumbling and acro skills… with a 5 minute relaxation/ meditation at the end.
Ninja's are strong, Ninja's are mighty, Ninja's face fears, Ninja's are calm, Ninja's respect others!
Our Ninja Yogis Classes feature a range of fitness, agility, mobility and strength activities. We convert our gymnastics circuit into a Ninja-style circuit. Kids still learn to tumble, cartwheel, roll and more with the extra challenge of Ninja-style skills.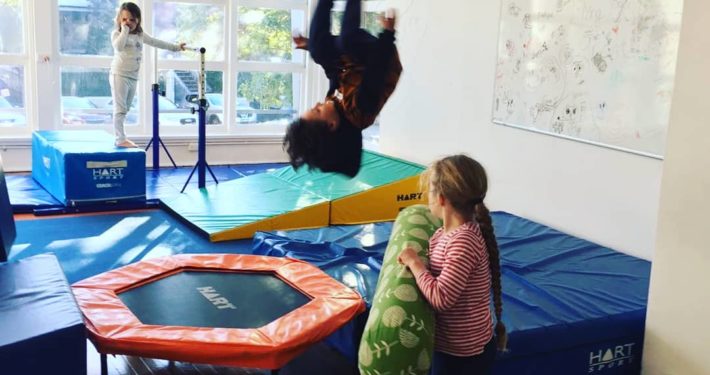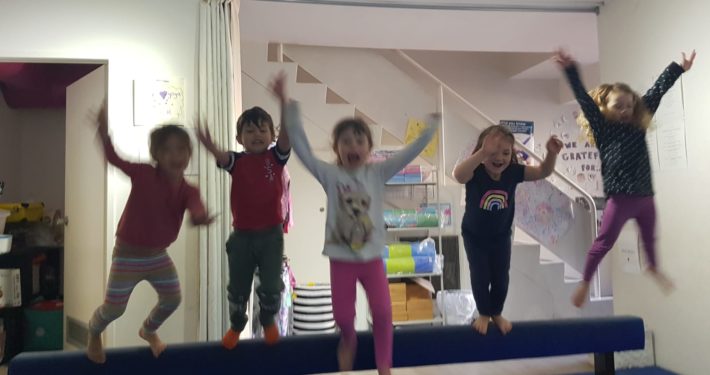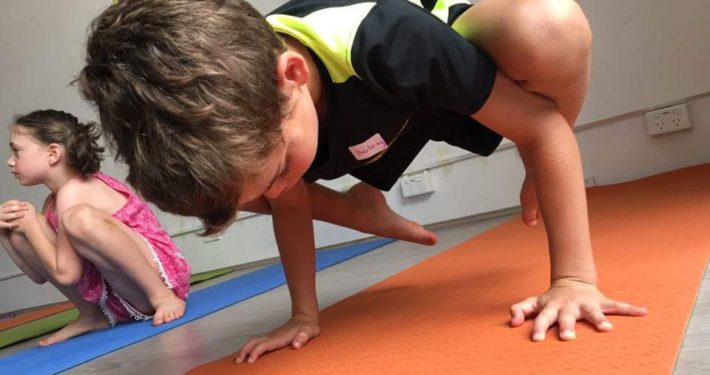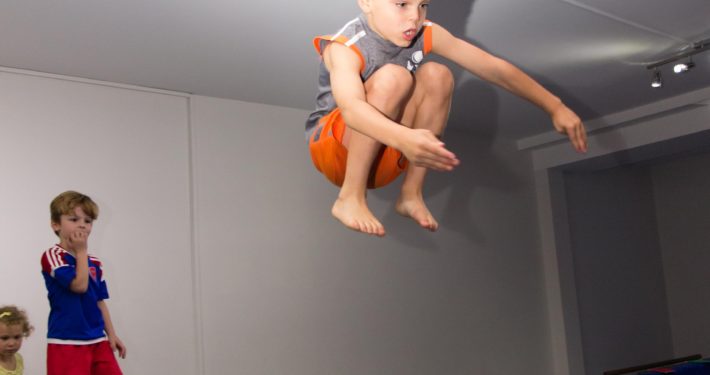 8-12yrs Boys Class- Tweens
Just for the boys!! You may believe your son could benefit from a yoga class per week in his life, however, he may be intimidated, either by the idea of yoga, or by the idea doing it with a class full of girls! So we have made this timeslot a class just for boys. The approach to yoga may be a little more active and challenging physically, but the boys will be introduced to all the yoga poses; stretches; acrobatics; coordination, mindfulness and concentration skills, … in an environment where they don't need to be self conscious, or where they're not distracted by girls (who in this age group, dare I say, can be quite distracting!!)
Acro/ Yoga/ Tumble 7-12 yrs
Suitable for 2nd- 6th class children.
This class is about 20 mins yoga- for agility, alignment & focus… followed by 35 tumbling and acrobatic skills; then 5 mins relaxation. This class is a little longer than the others to deepen skills and techniques.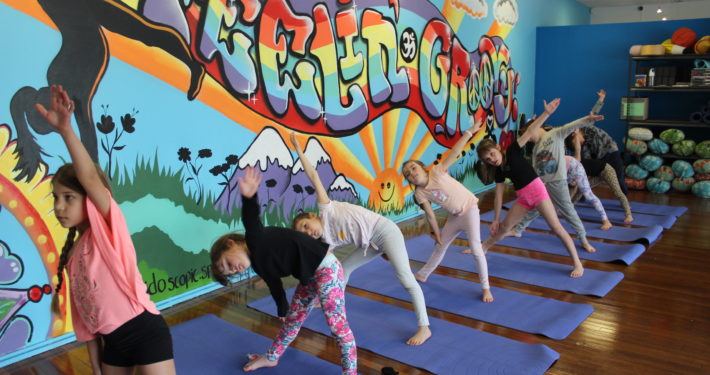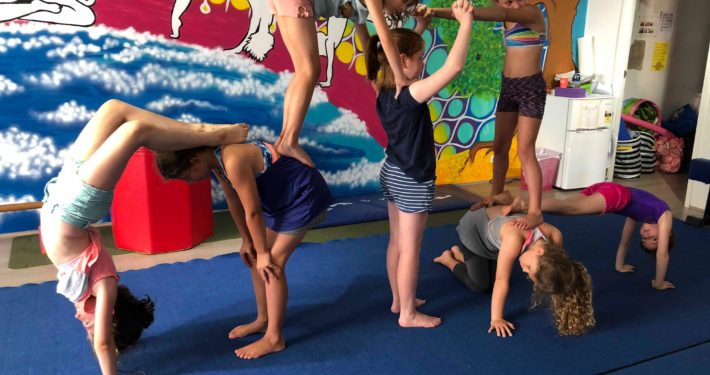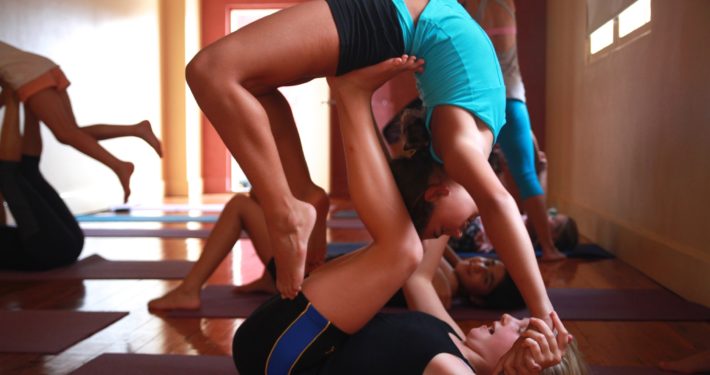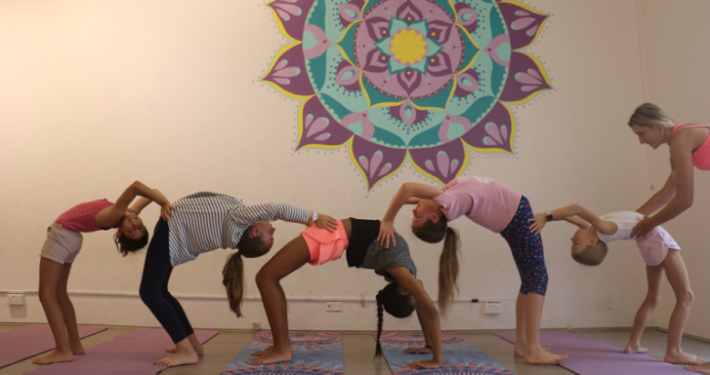 7-12yrs Flying Yogis Tweens
From 9-12 yrs (4th- 6th class) we start to see the kids really "fly" .. While a few fun games are played to improve concentration and cooperation, the kids are at a stage where we cover: salutes to the sun; some challenging yoga poses plus deep and safe stretches; all gymnastics and acro basic skills. This is all done in a yogic environment. The kids are taught to master postures- not via force, but via focus, mindfulness and calm. Yoga balances hormones and manages stress so these courses are an ideal tool for handling the pressures of puberty and school.
Flying Yogis Teens 12-18 yrs
Whether your high school- aged child needs an afternoon activity where they come out chilled, focused and relaxed to balance their hectic lives; or whether they want to get in to the fun of dynamic yoga and acro partner work, our Teen Yoga Programmes are most suitable.
Each week, a mix of flow vinyasa, deep stretches,  mindfulness and a few challenges to inspire and help with focus and concentration are taught by teachers with over 10 years experience teaching children of all ages. We also specialise in puberty and adolescent stages, with self awareness, confidence and cooperation serving as huge themes in all our teaching.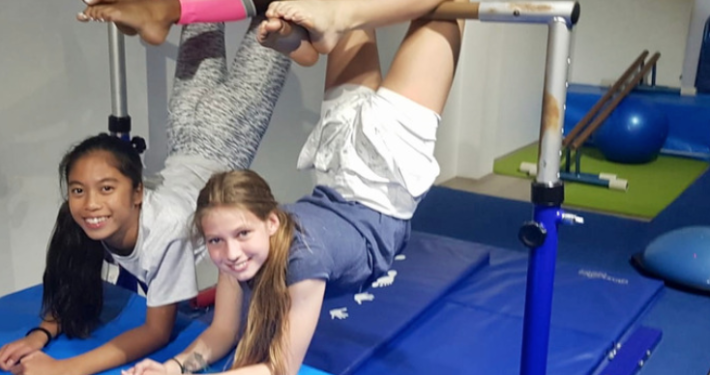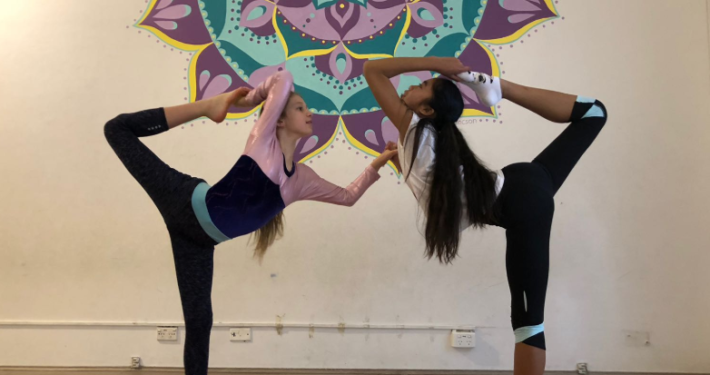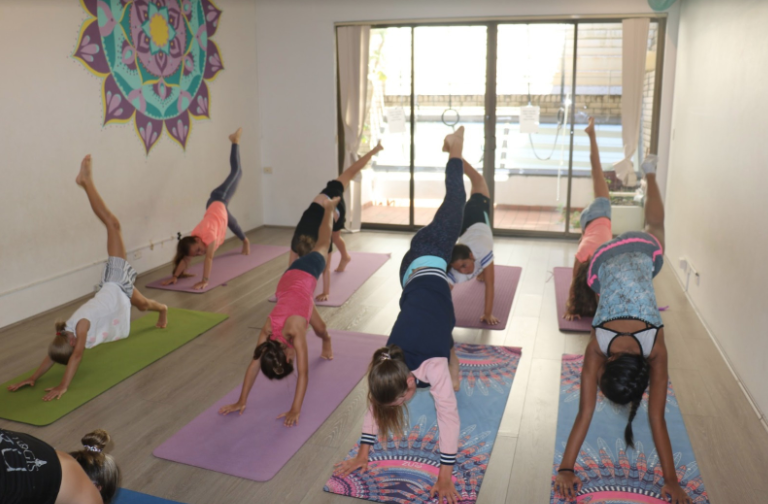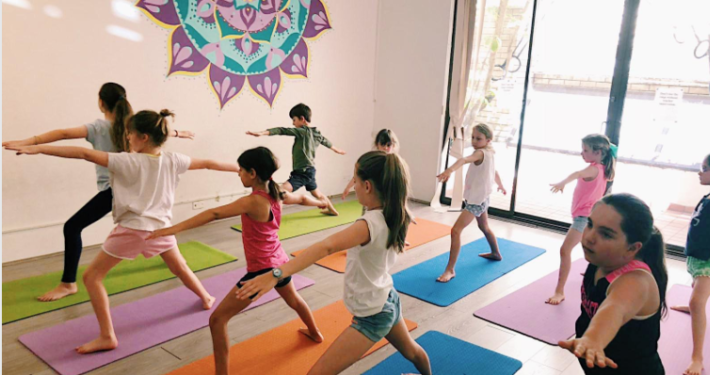 Flying Yogis Progressive group
Our progressive group is for Flying Yogis tweens and teens with experience in our classes. What does it take to get into the progressive group?
Concentration!! You don't need to be Super Flexy. You don't need to even flip over and do amazing physical feats. We are taking on the kids who can remain focused and dedicated.  Bring those traits to the class and you'll be back flipping in no time!
Pickup RBPS / Annandale Public & Care
Flying Yogis can now pick up children from Rose Bay Public School (RBPS) and Annandale Public School and bring them to the studio for their snacks; get changed; colouring in and mindful activities before their class starts.
If you need the occasional pick up- you can book casually ($15 for one offs)- but please text 0410505717 to confirm that you have booked your child in.
Children can bring their own food, however, we will have a small snack bar with healthy food and fruit… everything under $5 (think yoghurts; cheese/ crackers; apples; bananas; oat bars). Cost is $125 for the term, or $15 for casual drop offs. Please let us know via email if you are dropping off casually
Check out this video for a sneak peek at our Classes!
This is an old School Holidays video, but should help you get an idea about the sort of stuff we do! keep an eye out for new videos we are posting soon from our new Annandale studio!