Daily from 14th-27th April

Check out the epic Timetable below!
There is no program on Easter Monday ..but there is a program on the 27th!
Check out what we are getting up to on each day of the week..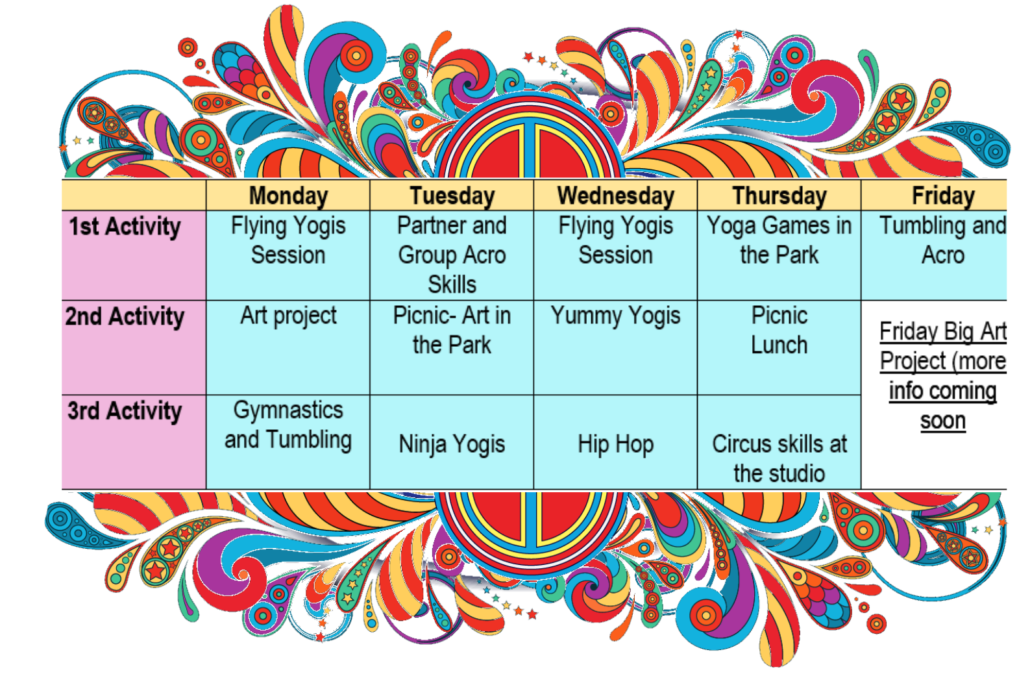 Want to stay updated as to what the kids are up to during Holiday Camp? Follow @Flyingyogis on insta as we will be uploading stories, photos, and activities throughout the day.  
We accept active kids vouchers for our school holiday programmes, so please contact us with your voucher number & desired dates so we can process them for you!
Here's everything you Need to know below!
When:
Annandale 9am- 3.pm daily … before after care is 8:30- 5:30pm. Doors open at 8:55am for regular bookings.   If you've booked a few days already, and would like a few extra- don't miss out on the "fifth day free" offer. Just email us- and we will add the days on and invoice to you with the discounted day.
Where:
All drop offs and pickups- Flying Yogis New Annandale Studio –103C Parramatta Rd, Annandale. The entry is on Johnston St.
Please note some days have picnic Lunches at Weekley park. It's about 8-10 mins walk from the studio. .
What to Wear in General:
Gymnastics/ yoga style gear & sneakers (for park activities). Anything they can move around in alot. They will be barefoot inside for many activities- so no closed toe tights.  Nothing too fancy- we use paint; go to parks; love arts and crafts… so something that can come home a little "loved".
What to Bring each day.
Please pack a hearty lunch; snacks and bottle of water. We are a complete nut free zone- so please respect this for the safety of other children.
For extended care- please ensure they have enough for a full day- or some coins in their bag for a healthy snack from our mini tuckshop.
All Meals; a few $$ for healthy tuckshop; Labelled water bottle; hat for outdoor days.
Tuck Shop
We have a Tuck shop with healthy food options: yoghurts; oat bars; home made bliss balls; seaweed snacks; apples; pears etc. Please let your children know that if you haven't provided them $ for tuck shop that we cant give them anything. If your child is in aftercare, a few emergency $ comes in handy… they ALWAYS go through their food.
And the Small Print!! (not so small- so please read)… 
Behaviour
Please let us know if your child has any behavioural issues. If there are tools to make your child feel at home and welcome, please share them. The less surprises we have- the better able we are to manage a child who finds new activities stressful or confronting. We will also ensure we have the correct staff on board with experience to manage children of varying points of the behaviour spectrum
We have zero tolerance on bullying or aggressive behaviour at any of our programmes. We let the children know this at the start of the day. We don't give warnings, we will ring a parent to pick the child up. This is for the sense of safety and security of the child being bullied.
VIDEOS AT AFTERCARE:
We will have some quiet activities set up for children- such as drawing; colouring; puzzles; lego.. they can play on our equipment if our teacher is able to monitor them, however- after 4pm we usually pop a fun animation or kids movie on for the children to watch. This allows our teachers to tidy up after our big days and prepare for the next day. If you are not happy with this, please contact us to discuss all options. 
INJURIES DURING CAMP TIME:
We take every precaution possible to ensure child safety: high teacher- student ratios; first aid knowledge and administrations; setting out safety guidelines each morning. Accidents, however, do happen. And more often with children. While we will look after your child if they hurt themselves; and administer first aid; we are not liable for an injury that may occur to your child by accident during our programs. There will be an injury report to sign; and there are cctv cameras to capture footage of incidents and our first aid responsibilities. 
*NOW FOR THE RIOT ACT- ABOUT PICKING UP CHILDREN LATE!!
If you are more than 10 minutes late to pick up your child after 3pm, you will be charged for aftercare ($25). And please please respect our staff and do not be after 5:30pm if your child is booked into after care. You will be required to pay them $15 per half hour you are late- in cash directly. They are exhausted… they want to go home; they may have after work plans;- or at the very least- they need to prepare everything for the next day's activities. We trust you understand.
*WHY ISN'T THE DANCE CAMP'S BOOKING INCLUDED IN MY "BOOK 5 DAYS FOR PRICE OF 4"?
Our specialised camps such as Dance Camps and Art Camps are more expensive to run than the day camps. Possibly about 40% more costs involved (costumes; materials; specialised teachers; preparation days etc)… but we only charge about $10 per day more for them. What we are happy to offer, if you book a Dance Camp – the 3rd Day camp booking is on us! Thanks for your consideration.