Mindful Acrobatics Workshop: Liam Lind
Bondi Junction:
Tuesday 24th April 1pm – 5pm
4 hr workshop for $65.00 or $100.00 for full day Flying Yogis program 9am – 4pm
Monday 30th April 10am – 2pm
4 hour workshop for $65.00
Five Dock – Dates to be Announced Shortly
Back by Popular Demand: Liam's back for Two 4 hr Workshops this April!
Workshops will be held at Flying Yogis Bondi Junction on Tuesday 24th from 1pm – 5pm and Monday 30th from 10am – 2pm.  These programs are catered for 8 -15 year olds who love being upside down, flipping and tumbling around!
We divide the groups into a Foundational Group (who'll be taught tips, tricks and techniques for handstands/cartwheels/ kickovers/somersaults) whilst our Progressive Group (with the basics skills and techniques well engrained Liam will assist these Flying Yogis to the next level).
We have worked together with Liam to curate a Special Program of over 90 minutes with each group so don't miss out!
Tuesday 24th April
$65 per student for 4 hour program in Bondi Junction OR
$100 per student for our Full 9am – 5pm Day Program (jam packed with activities including a fun hip hop class, an art project and more)
Monday 30th April
4 hour Workshop Only $65 per student
Please check our specific Terms & Conditions for bookings into this Special Workshop (Please note we encourage children sit and rest whenever they need should they feel any dizziness or disorientation from the tumbles or exercises – from our experience this is not uncommon).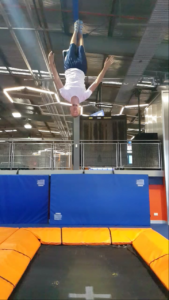 ABOUT LIAM LIND: Elite Gymnast & Special Guest Teacher
Liam began his formal training as a Gymnast for the junior Australian team where he was afforded the opportunity to compete for the country at Junior events. Upon completion of his Gymnastics career Liam focused on performing arts at Brent Street until the completion of highschool. Following on Liam has been engaged with Trampolining coaching at Skyzone Alexandria, Acrobatics (tumbling) at several dance schools and is currently a contracted performer and instructor for Legs on the Wall. A physical theatre and performance comapny based in Sydney. Liam's has a lifetime of experience with physical movement and teaching.