A fun-filled schedule jam packed with all your child's favourite activities!
Yoga
Acro
Dancing
Gymnastics
Ninja-Warrior Obstacle Courses
Arts & Crafts
Music
Singing
NOW MADE EVEN BETTER WITH
Three park excursions & NEW! 'Yummy Yogis' where we prep amazing healthy treats with the children.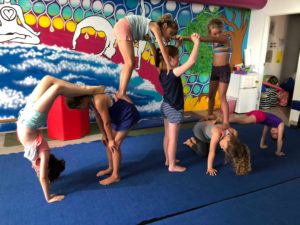 Daily Programs that your Little Yogi, Gymnast, Dancer, Artist, Dreamer, Creative Will Love
Book individual day/s or book into 4 days ($85 per day) & receive the 5th for FREE (that's $340.00 for 5 days filled with fun, activities & challenges at $68.00 per day)!
Monday 16th – Monday 30th April 2018
9am – 3pm daily with Before/After Care Available from 8:30am – 4pm ($10.00 supplement)
Have fun this Autumn School Holidays with all of Flying Yogis 'Signature' Games & Activities ranging from yoga, mindfulness activities, acrobatics, gymnastics, arts & crafts, music, singing and dancing.  With Special Creative Programs like our popular Ninja Warrior Circuits, fun group Acro Yoga in the park, Mindful Acrobatics for our more advanced gymnasts and now Yummy Yogis where Flying Yogis has a nutritionist come to teach the kids how to prepare fun, delicious and nutritious snacks!
Please note that Tuesday 24th April combines with Mindful Acrobatics with Liam.
We can't emphasise how IMPORTANT it is for you to note the park drop offs and pick ups. We don't want our rushing morning parents dropping children at wrong venue in morning or worried parents in afternoon who don't know where their children are! We will also send a courtesy reminder email to parents.
Bondi Junction's Flying Yogis Holiday Fun Camp Schedule
PLEASE NOTE: Our schedule is as follows but some changes may occur. Please pay extra attention to drop off and pick up times & locations for park days as they do vary. We appreciate your understanding.
MONDAYS
Gymnastics Skills
Ninja Warrior Circuits
Yoga
Dance
Sustainable Arts & Craft
TUESDAY 17th April *Pick up at Plumb Reserve
Dynamic Yoga
Music & Fun Sing-Alongs
Park Afternoon Activities at Plumb Reserve
TUESDAY 24th April *Pick up at Plumb Reserve
Hip Hop Class
Music & Fun Sing-Alongs
Park Afternoon Activities at Plumb Reserve (for 8-12yr olds with acrobatics/gymnastics experience Liam's Mindful Acrobatics Workshop which begins at 1pm-5pm)
Liam's Mindful Acrobatics Workshop *see pre-requisites & BOOK HERE
WEDNESDAYS 
Hip Hop Class
Acro Yoga Practice (to create a "dance jam")
Circus Skills/Ninja Warrior Circuits
THURSDAYS *Drop off at Plumb Reserve
Yoga in the Park
Sustainable Arts & Crafts in the park
Gymnastics or Singing & Karaoke (if your child is totally exhausted after the day's activities)
FRIDAYS *Pick up at Plumb Reserve 
Yummy Yogis
Specialised Gymnastics Workshops (Walkovers/Handstands/Backbending & Flexibility)
Park Picnic & Games
Disclaimer: Flying Yogis advise and reserve the right to video snippets of their program & activities for advertising purposes with publications social media pages such as but not limited to their website, Facebook page, Instagram and/or Youtube including any other medium as they see fit. By enrolling your child you acknowledge, understand and authorise the above. Noting that should you not want materials including your child published prior written notice needs to be given via email to amanda@flyingyogis.net.au.