Our Bondi Junction April Holiday Programmes are running from; 15-18th April in week 1 and the 23d-24th (24th is a Special Event!) in week 2- and Monday 29th April- (student free day!)
PLEASE READ ALL INFO BELOW- IT WILL TELL YOU EVERYTHING ABOUT: DROP OFFS; PICK UPS; WHAT TO WEAR; WHAT TO BRING; COSTS; DEALS. OUR BOOKING RECEIPT DOES NOT SEND THROUGH THIS INFORMATION.
The cost is $90 per day for the day programmes, 9am- 3:30pm. Aftercare runs from 8:30- 5pm and is a $15 supplement. Book 5 days for the price of 4!!
We have loads of great activities and events to announce. As you know- our "Gurus" are professional dancers; aerialists; gymnasts- at the top of their field… so your children can have fun learning the basics- or really come to improve their dancing and gymnastics skills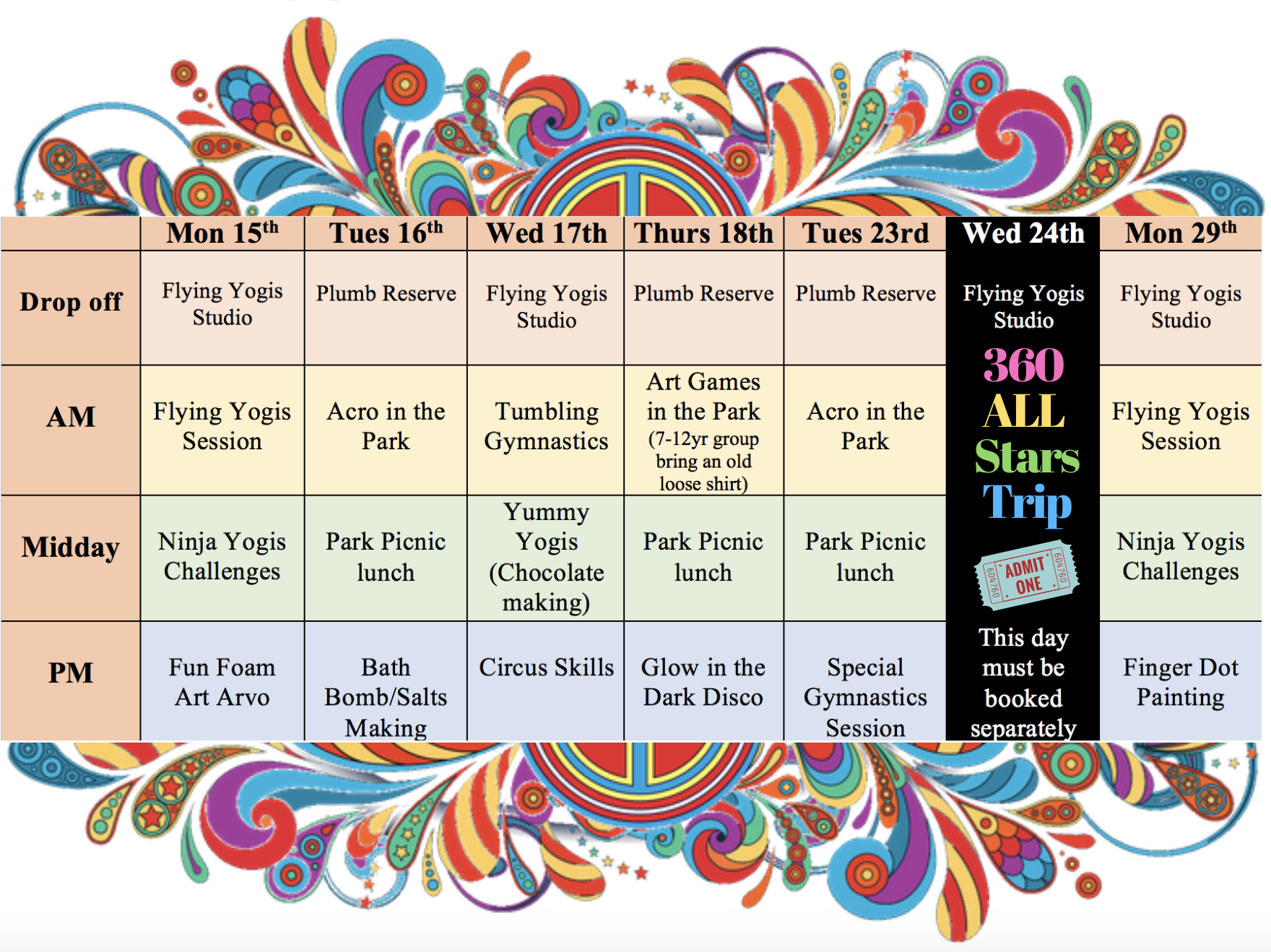 We are also excited to announce a special Flying Yogis Holiday Excursion!! 
On Wednesday April 24th we are inviting both our Bondi Junction and Abbotsford camps to a "360 All Stars performance" at the Opera House!!
We will start and end the day at the Bondi Junction and Abbotsford Studios. Starting with a fun Flying Yogis Class full of yoga; acro & gymnastics; the kids will then make a healthy lunch to take to the Domain for a picnic. Our Bondi Junction Yogis will be driven to the Opera house by a coach and our lucky Abbotsford Yogis will have the Pleasure of riding the river cat ferry there!
We will announce more info about this exciting opportunity soon, but please let us know if you interested so we can start to organise numbers!