You think you have a limit. And you go for the limit, you touch the limit, and then you think: "Okay, now this is my limit". As soon as you touch this limit, something happens and you suddenly can go a little bit further. With your mind power, your determination, your instinct and the experience as well, you can fly very high – Ayrton Senna

Flying Yogis started out as "Bendybods" classes at Prana Space Yoga Studio in Rose Bay in 2004. As our programmes morphed and grew via our inspiring teachers and students, we became the Flying Yogis. We now operate in various locations around Sydney and are expanding.
We have created unique programmes that incorporate yoga's mindfulness with Gym and Acro's agility and coordination for kids. This gives your children fun ways to gain all the tools needed to cope with our hectic lives: focus; trust; confidence; cooperation; self-esteem, awareness; resilience and fearlessness in a completely non-competitive environment. We work in with physios; O.T.s; psychologists and other therapists to help children with specific needs and are well respected by these groups as a diverting and fun adjunct to their work.
Our team of inspiring teachers come from various backgrounds; gym; dance; child psychology; education.. Our trainings are rigorous. We aim to create the kind of teachers that bring out your child's personal best.
Most of all, whether you come weekly to courses; attend our holiday workshops; come to a Birthday party, have flying yogis teach at your school; or as an adult become part of our team and do our teacher training; you will have a fun and joyful experience.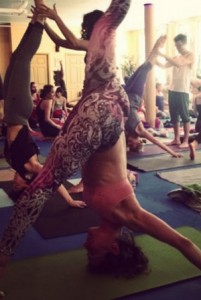 Hatha Yoga Teacher since 1997; Senior Yoga Teacher with Yoga Australia; ERYT-500 – Yoga Alliance; 500 Hour Teacher Trainer (Yoga Australia; Yoga Alliance); Childrens' Yoga Teacher Trainer (Yoga Australia). Amanda was so inspired by teachers in general- whether it was her Maths teacher, Piano Teacher… and ultimately a handful of "guru- like" yoga teachers, that she has spent her adulthood studying the "magic" that is being a catalyst to making people feel better about themselves and creating positive change. She has taught adult yoga for almost 2 decades; trained yogis how to teach adult yoga since 2007, and now she is putting her 14 years experience teaching yoga to children to create the Flying Yogis- programmes that inspire fearlessness, agility, coordination, cooperation and confidence in children.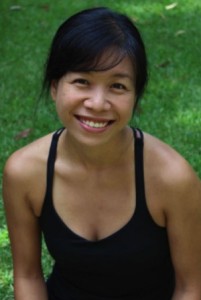 Yoga has helped May find ways to connect with her inner being and spirit, balancing the busy-ness of every day life with the peace and tranquility within ourselves. She wishes to share that love and openness with others and constantly look for ways to improve her practice or teaching. May is trained with Zenergy Kids Yoga and is also a keen AcroYoga teacher and practitioner, which is a fantastic way to get in touch with – and unleash! – our inner child and playfulness.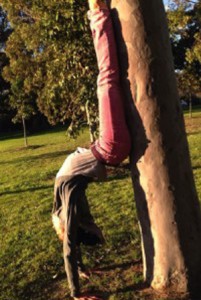 Ivy Rivett has over 20 years yoga experience and is a certified Yoga Instructor, has a BA Honors Dance, Diploma Therapeutic Massage, Certificate III Children's Services, trained  in Wu Tao Dance with Michelle Locke, Radiant Child Yoga Program I, studied Movement, the Brain and Learning with Kinesiologist Brendan O'Hara, completed Brain Gym 101, Vision Gym  and Rhythmic Movement Training (for ADD/ADHD/Emotions and Inner Leadership) Level I & II…and to top it all a mother of 3 wonderful children.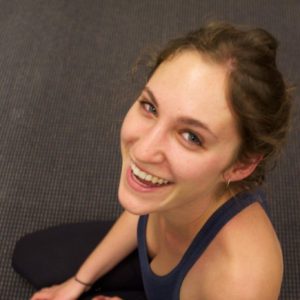 Niki has practiced yoga since she was 15 and loves sharing yoga with others. Niki is a qualified yoga teacher and kids yoga teacher through Prana Space and also a qualified aerial yoga teacher through AntiGravity. Her background is in childcare as well as art and design. Niki loves to open kids' imaginations to play, creativity, and the endless possibilities of yoga. Her classes encourage kids to relax through various creative modalities as well as be silly and have fun through laughter, play and of course yoga!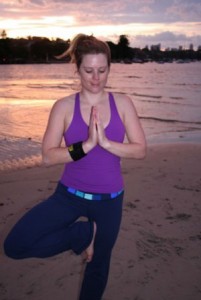 I've been an avid devotee of yoga since discovering it in London in 1998 and have studied a variety of styles and disciplines over the years, including Ki, Iyengar and Ashtanga yoga, completing my teacher training in 2008 and furthering that with my 500 hour Experienced Yoga Teacher Training in 2015.
After becoming pregnant my interest in pre-natal yoga and meditation deepened considerably and I studied these areas further to specialise in teaching pre and postnatal yoga.
Having children lead to me completing training in teaching yoga to children in 2011 and discovering a new passion for getting kids into yoga! Lots of fun for all involved, toddlers have a natural affinity for yoga, as I discovered when my sons began copying me when I practiced! Seeing little ones gain confidence in their own bodies as they master skills from week to week is an experience that cannot be beaten J
I consider myself a lifetime student of yoga and continue my yoga studies to broaden my knowledge and understanding. Plus in my kids classes I learn from some of the best little teachers around, no one lives more in the moment than kids!